Municipality wants name change De Uithof to Utrecht Science Park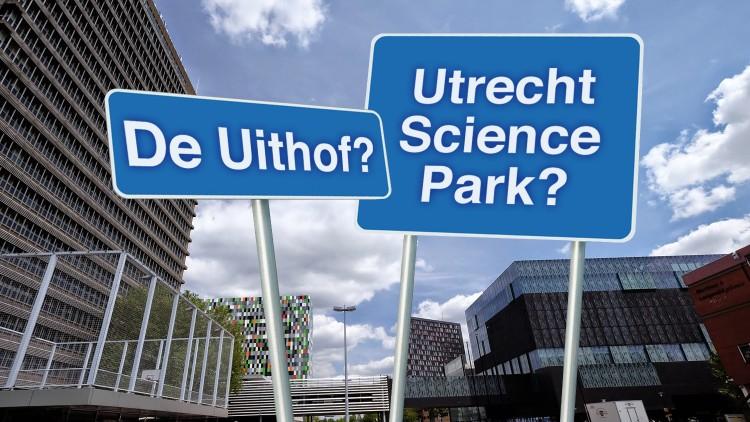 In concrete terms, the name De Uithof in the municipal administration will be changed in Utrecht Science Park. As a result, in all official publications of the municipality, it will no longer be talked about De Uithof. The name Utrecht Science Park will also appear on the traffic signs, the P + R De Uithof will be renamed and you will be registered as a resident of De Bisschoppen in the municipality's basic registration as a resident of the Utrecht Science Park.
With this proposal, the municipality is responding to the lobby of the Utrecht Science Park foundation, in which the University, the University of Applies Sciences, the academic hospital and companies are united. Director Jan Henk van der Velden thinks that this international name fits better with an area where leading knowledge institutions and internationally operating companies are located. The SSH, which rents a lot of student houses in this area, has also said that it supports the change of name.
The costs for adjusting the signage are estimated at 400,000 euros. A part will be paid by the road authorities (ie Rijkswaterstaat, the province and the municipalities in this region) and a part will be paid from the entrepreneurs fund of the Utrecht Science Park. The municipality of Utrecht is counting for a cost of 77,000 euros for the signs. An amount of 220,000 euros has been budgeted from the entrepreneurs fund for the time being. The entrepreneurs fund contains a contribution from all institutions and companies who intend to improve the business climate in Utrecht.
The change says goodbye to a name that has been associated with the area for more than 55 years. The name refers to the early seventeenth century De Uithof farm located on the current Toulouselaan. The word 'uithof' also refers to the leased farms that once belonged to the former St. Laurens Abbey (now the Oostbroek estate). De Uithof was built together with Rijnsweerd in the sixties in the former Johannapolder.
Not everyone is happy with the name change. For many students, employees and other Utrecht residents the name De Uithof is a concept. This is shown by a flash questionnaire that AD/UN has done and a video that DUB made.