Faculties coming up with creative solutions to lure and retain lecturers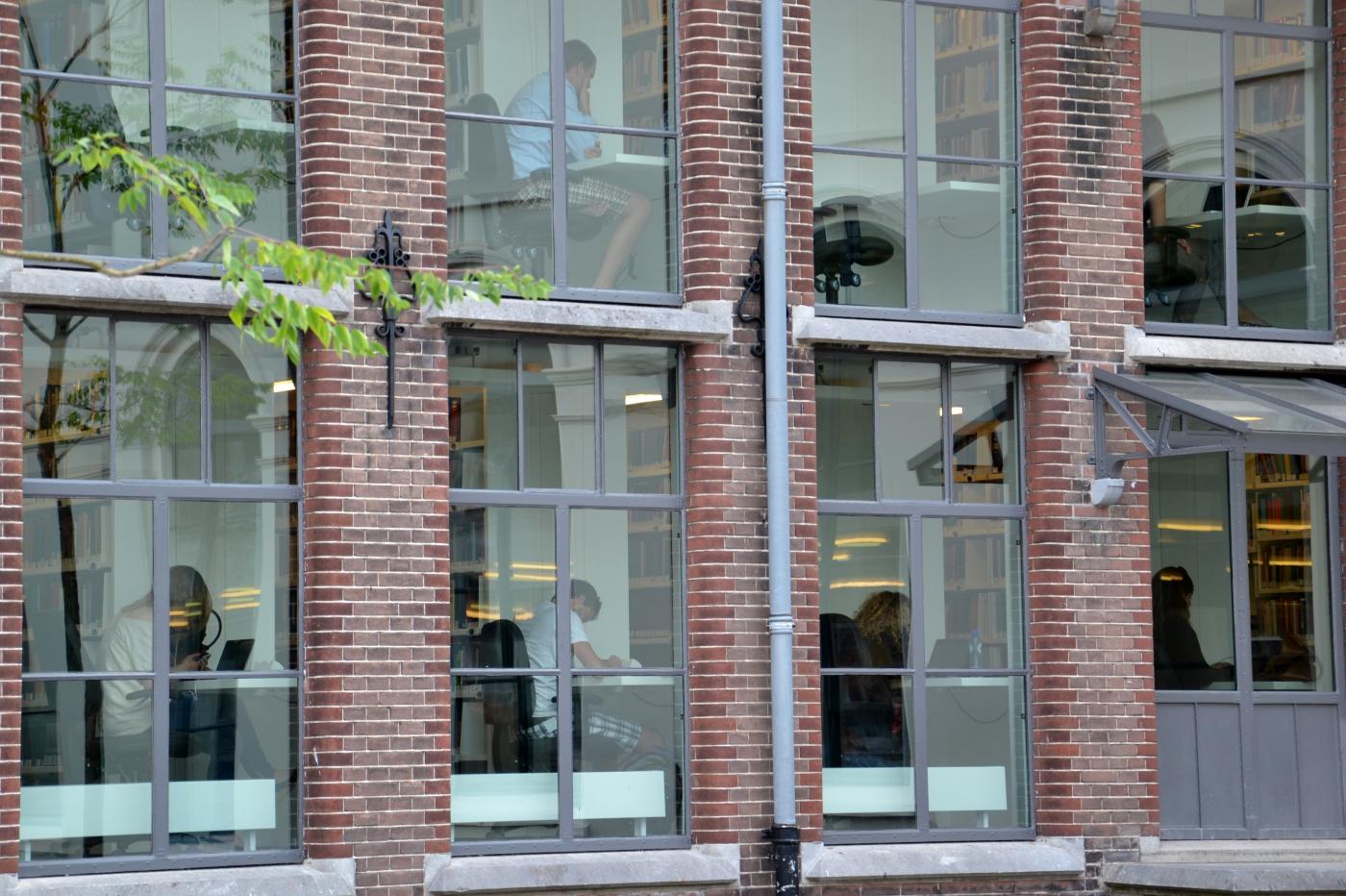 From high school directly to the university. Photo: DUB
For programmes without a numerus clausus (an established limit to the number of students), it's a matter of guesswork how many new students they'll get each year. In general, the total number of students at Utrecht University is increasing, which means the university needs more lecturers  – apart from the colleagues the university already wants to diminish teachers' workloads. Those can be financed with funds from the National Education Programme.
Around a hundred lecturers are needed for the programmes that are growing in size. That estimate takes into account the need to accommodate the rising number of students, as well as the need to replace colleagues who have left. The Faculty of Social Sciences, for instance, is looking for more than fifty teachers, while Law needs about thirty and the Utrecht School of Economics around twenty five. IT and Pharmacy have ten and four fulltime positions to fill, respectively, while the English-taught programme Global Sustainability Science is looking for around thirteen new lecturers. This is just a sampling of all the programmes at the university, and therefore only a fraction of the total number of vacancies.
UU isn't the only higher education institution looking for more staff. Almost all Dutch universities are seeing the number of students rise year after year, which means there's fierce competition for the best lecturers. Some programmes also need to compete with other organisations and the corporate world, which often offer higher salaries or benefits. Lawyers, pharmacists, and IT staff are particularly sought-after, which means the university relies on people who really care about research and education, according to HR advisors from the latter two departments.
Law will train its own lecturers
At the Faculty of Law, department head Ivo Giesen is counting on around a thousand freshmen. Last year, the number of first-year students already increased to 1,080, according to the official count issued in October. "And most of them continue on to year two." He therefore needs around thirty new lecturers, of whom half will be given temporary contracts with no research hours, and the other half will be hired as assistant professors or associate professors. Those do have research hours.
If the new lecturers could get fulltime positions, the number of teachers needed would be smaller. "But they're usually given a four-day contract." A fulltime job as lecturer is neither good for the lecturer nor for education, he explains. "A fulltime lecturer has to teach so much that it's impossible schedule-wise, or the lecturer has to lecture after lecture, back to back. That's not right."
The faculty has stumbled upon difficulties in its search for thirty new colleagues, says Giesen. It's not just that law experts are highly sought-after elsewhere, the faculty also has to deal with a rather high turnover. Additionally, the department has to meet all sorts of demands the university has set for lecturers and their contracts, which causes "conflicting demands." The problem has been known for a while, according to the department head. "It's been difficult to find assistant professors for the past twenty years."
Although the department would like to meet all the university's requirements, this next academic year it will not succeed entirely. A temporary lecturer is supposed to receive a four-year contract at a minimum of 0.7 FTE. "Because it's difficult to find teachers, we've also been hiring many inexperienced people. Recently-graduated Master's students from our own programme, for example. Since they lack experience, we don't want to offer them a four-year contract with a two-month probationary period right away. It's just not enough time to assess an inexperienced lecturer. That's why we give them a one-year contract with the possibility of extension." With regard to the assistant professors, the faculty has to compete with the outside market. "The turnover is high. It's not always easy to keep them with us for a longer period." The high turnover also causes extra work, given the recurring process of recruiting and training people.
Giesen would like to see more flexibility in the recruitment process. "Next year we're going to start training our own assistant professors. We'll hire inexperienced lecturers who will do a PhD on the side. They'll get a 6-year contract. We hope this will create a breeding ground that will help us retain these professionals for longer."
IT and pharmacy aim for tenure-trackers
At the Faculty of Science, the growth in the number of students continues unabated, especially at the IT, Pharmaceutical Science, and Biology programmes. Pharmacy and IT also deal with competition from the corporate world. HR advisors Claudia Cozijnsen (Pharmacy) and Marloes Reichardt-Buys (IT) say most applicants are the kind of people who consciously choose a career in education. "They have intrinsic motivation." But these programmes, too, wish to keep the lecturers long-term. To do so, they've implemented the Tenure-Track.
One of them is for assistant professors and associate professors at Pharmacy, who receive a five-year contract with the possibility of a permanent one. These teachers get the so-called educational profile, which means they spend 90 percent of their time on teaching, and 10 percent on research. There's a similar track for young professionals, the junior tenure trackers. "They're often recent graduates. They teach half of the time and spend the rest of the time on research for their PhD. They also get a 6-year contract."
This year, Pharmacy is looking for four new lecturers. Just like last year, these vacancies were published in bulk. "Our recruitment strategy is very broad. We're not asking for a lecturer for a specific course. This approached worked last time, so we hope we'll have enough lecturers in September because of it."
Like Law and a few programmes at the Faculty of Social Sciences, Pharmacy is also looking for lecturers to bring some real-life experience to the classroom, but contrary to Law and Social Sciences, Pharmacy has special contracts to do so. "This profile doesn't actually exist in the collective labour agreement of Dutch universities. These lecturers are often given a temporary contract of 0.4 FTE."
This next year, IT needs at least ten new assistant or associate professors. Like in previous years, the department chose to publish a broad profile in its vacancy text, as well as publishing it abroad, says HR advisor Marloes Reichardt-Buijs. "We did get around two hundred responses."
The programme hopes more women will apply, because they're still in the minority at the IT programme. "We've adjusted our recruitment procedure accordingly a few years ago."
Geosciences sees growth at Global Sustainability Science
Global Sustainability Science had to get used to the idea that more than 160 first-year students will join the programme next year. "We had a numerus clausus for four years, which makes it easier to balance tje staff numbers. You know exactly what you need," says Stefan Dekker, Director of Education. Next year, there will be no fixed number of students anymore. The Dutch Minister of Education says the programme is past its start-up phase, so it doesn't need to establish a limit to the number of students anymore. Dekker agrees, but when 230 people registered for the programme, came the question of how many new lecturers would they need to hire.
Informatica heeft voor het komende jaar ten minste tien nieuwe UD'ers dan wel UHD'ers nodig heeft. Net als eerdere jaren koos het departement ervoor om net als Farmacie een breed profiel in de vacaturetekst te zetten en deze ook buiten Nederland te verspreiden, zegt HR-adviseur Marloes Reichardt – Buijs. "Daar reageerden eerder toch zo'n tweehonderd mensen op."
It's unclear how many students will actually show up in September. "So far, we've matched two hundred Dutch students, but as we're an English programme, we'll also have the registrations from abroad. But it's not clear whether they will all come, considering Covid."
The department is also coordinating the new Master's in Global Challenges for Sustainability, which is offered by Charm EU, a collaboration of five European universities. "In total, we're looking for a sizable group of six to seven assistant professors, and around five junior lecturers."
For the first term, at least, they've found enough lecturers, says Dekker. "There are plenty of PostDocs and PhD candidates who are looking for a permanent contract as assistant professor." But there's more concern about the junior lecturers. "The turnover there is higher. They're usually recent graduates who enjoy working in education, but move on to the corporate world after a while, or become lecturers at a university of applied sciences."
Social Sciences is (almost) ready for the new year
Although every programme at the Faculty of Social Sciences (FSS) will welcome new temporary lecturers next year. The growth is more visible at Psychology and Interdisciplinary Social Sciences. There are around 25 vacancies at FSS. These lecturers teach, don't do research, and almost all of them have been recruited already.
There are also 27 new assistant professors who will start at FSS in September. These colleagues aren't just needed to teach the growing number of students, but also to help relieve the workloads of the current staff, says De Waijer. The faculty has managed to find good candidates, he says, "but we've noticed it's harder to find good staff, because other institutions were searching for the same people."
There are also 27 new assistant professors who will start at FSS in September. These colleagues aren't just needed to teach the growing number of students, but also to help relieve the workloads of the current staff, says De Waijer. The faculty has managed to find good candidates, he says, "but we've noticed it's harder to find good staff, because other institutions were searching for the same people."