Students in Guatemala are concerned, but will have to wait and see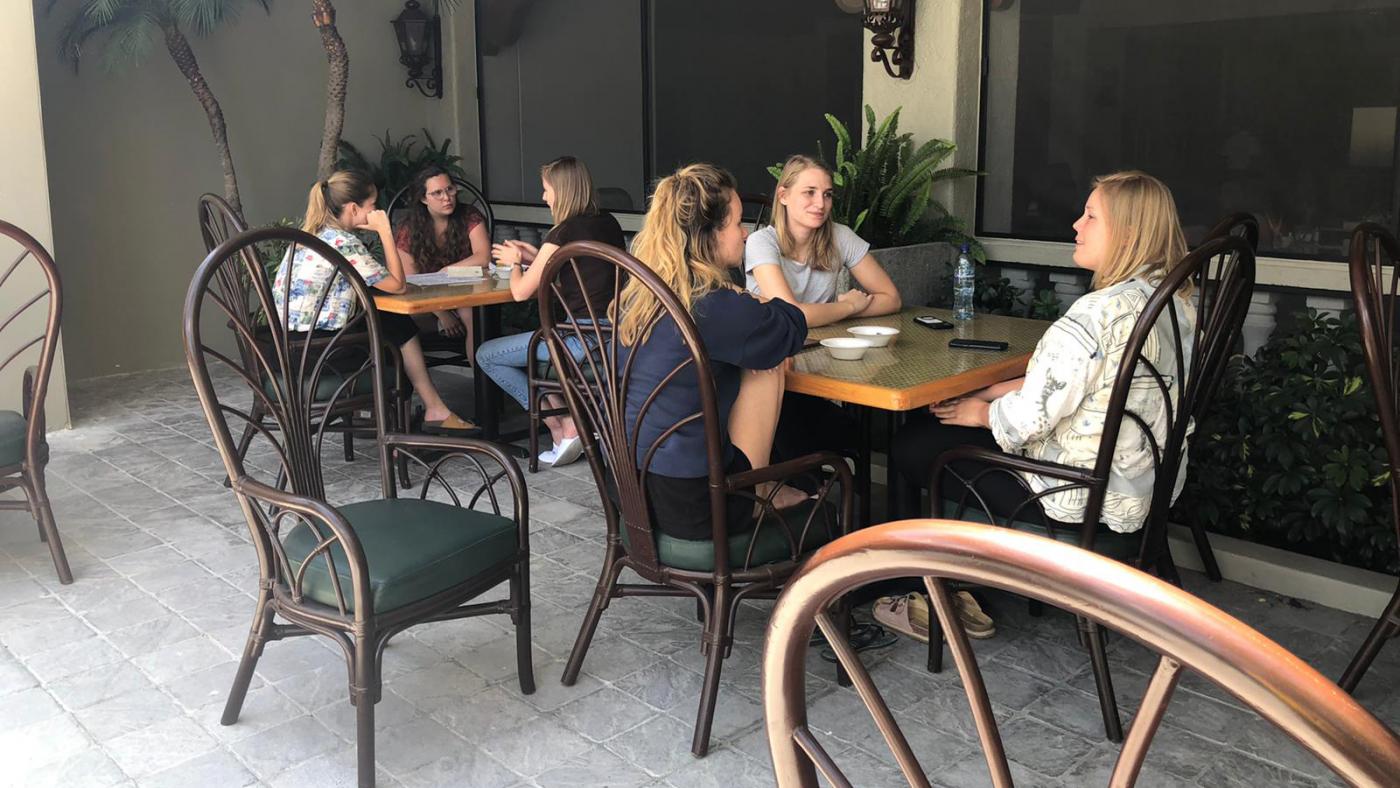 The students share their fieldwork experiences in small groups. Photos: Marie Louise Glebbeek
"The students are worried, but we are in a nice hotel and the university reacts quickly and is helping us as much as possible." Cultural anthropologist Marie Louise Glebbeek has informed DUB via Whatsapp when asked how her group of thirteen students is doing now that they cannot leave Guatemala.
A different turn
The students had completed a three-week language course in the city of Quetzaltenango and would - together with coordinator Glebbeek and other teachers of Cultural Anthropology - carry out research projects in pairs in different places in Guatemala. That plan was cancelled when UU decided to recall all students to the Netherlands because of the corona crisis. The students had to say goodbye to the host families right away. However, when the students had made the trip to the capital Guatemala City, they were told that all inbound and outbound flights were suspended for the next 14 days.
Since then, the group has been staying in a hotel in a business district not far from the airport. If all goes well, another Utrecht Master's student will join the group this weekend. She conducted research elsewhere in the country. A niece of Glebbeek who traveled with her to Guatemala is also part of the group. "Her 'vacation' has taken a different turn as well," says Glebbeek.
Source of information
In Guatemala City, the teacher maintains contacts with the Dutch consul in Guatemala and with the deputy ambassador of the Dutch embassy in neighbouring Costa Rica. She is now a source of information for many young Dutch people who are stuck in the country and for their parents. "The lines of communication are short, but the outlook is not so favourable. There has also been a ban on entry and exit in Guatemala and the surrounding countries since Wednesday, and arranging flights is complicated."
Therefore, on Wednesday, the students started their studies. They work on alternative assignments related to their research and their studies to avoid study delay. They can also walk around the hotel, although there is little to do there because everything is closed. They are served meals in their room.
No risks
In Utrecht, the chair of Cultural Anthropology Kees Koonings is in close contact with the group. According to him, the faculty has informed the students that it wants to do everything to guarantee their well-being and to accelerate the return. "Everything that is necessary is happening."
In app groups of Dutch and Belgians in Guatemala, there is plenty of speculation about possible escape routes, for example via Mexico. According to Koonings, this is an option. "Everything is closed and we don't want to expose our students to risks. We have to wait and see. The Guatemalan government will reconsider the situation early next week. However, that could mean anything."
Cancelled flights
Koonings says he has no insight into national and international initiatives to get stranded travellers back home at the moment. According to the branch association ANVR, no fewer than 200,000 Dutch people are still abroad. A UU spokesperson said that the university is mapping out how many Utrecht students cannot return from other countries. Other universities are working on this as well. The information will be shared with the VSNU and the Ministry of Education, Culture and Science.
According to Koonings, 99 Utrecht students of Cultural Anthropology were still abroad last Friday. The vast majority are now at home or on their way home. Next to the students in Guatemala, two Master's students in the city of Entebbe in Uganda, for example, are also experiencing problems. In their case, this is not because of government intervention, but because flights have been cancelled or fully booked. The faculty now has confirmation that they are on the passenger list of a flight next Monday.
Some students have decided to stay where they are. This includes students in Rome who cannot leave the country. According to Koonings, other students are elsewhere in a safe environment or, in the case of foreign students, in their own country. "We have always emphasised that they have to take into account that this situation can last for weeks or months. We also make it a condition that students must have coordinated their decision with their home front."